The Big Day (Feature Film)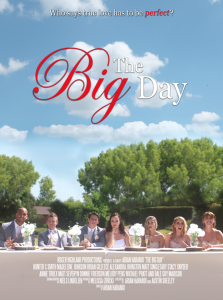 Trailer coming soon…
The Big Day is a comedy feature film that combines the best elements of a wedding flick with the bachelor party comedy.
The film opens hours before an elegant wedding when the groom-to-be realizes that the stripper from the bachelor party the night before is actually a hooker. Having slept with one of the groomsmen, she refuses to leave the wedding venue until she is paid.
With no cash to be found, the groom and his groomsmen attempt to hide the prostitute from the bride, her father, and her eccentric bridesmaids in an effort to save the wedding. Their efforts are thwarted, however, at the arrival of the hooker's pimp, whose outlandish financial demands put the groom's wedding, relationship, and life in jeopardy.
Website: TheBigDayMovie.com  |   Twitter: @TheBigDayMovie      |     Facebook: TheBigDayMovie
Production Stills

Crew
Directed by Arian Harandi
Produced by Melissa Izbicki
Written by Arian Harandi and Austin Sheeley
Cinematography by Niels Lindelien
Film Editing by Christopher Dickhute